The Digital Research Skills Australasia
DReSA makes it easier for learners, trainers, and training providers to find digital research skills-focused educational events and resources.
Through DReSA, its creators seek to:
Lift Australasian researchers' capabilities and skills by improving the findability of events and resources
Build national, collaborative, training partnerships
Strategically leverage trainers' and learners' time and resources
DReSA began as a grassroots movement among trainers and training providers in Australia and New Zealand to improve the discoverability of training. After scoping the landscape for similar solutions, the Working Group located ELIXIR's TeSS platform. From there, began a truly collaborative, global partnership with ELIXIR and an exchange of, not only the infrastructure that underlies TeSS, but also the ideas, support and encouragement.
Events
Events in DReSA are defined as face-to-face or online training opportunities that have set start and end times. These primarily take the form of workshops, courses, webinars, etc.
DReSA also collects information about conferences, meetings, and hackathons, as these may also provide opportunities for learning.
DReSA collects event information from 21 content providers, supplementing the data with geolocation information found using Nominatim.
Materials
Materials in DReSA are defined as training resources that can be accessed at any time. These may be in a variety of different formats, including online tutorials, videos, PowerPoint presentations, and so on.
DReSA collects materials from 11 content providers.
Subscribe
DReSA also provides a subscription feature to help users to stay informed about training events of interest to them. The service may be customised by selecting the relevant filters, and initiated via the subscribe button. Users may choose to receive email notifications about upcoming events, or have them automatically added to their preferred calendar application.
The subscriptions manager page may be used to change the frequency of, or to remove, subscriptions.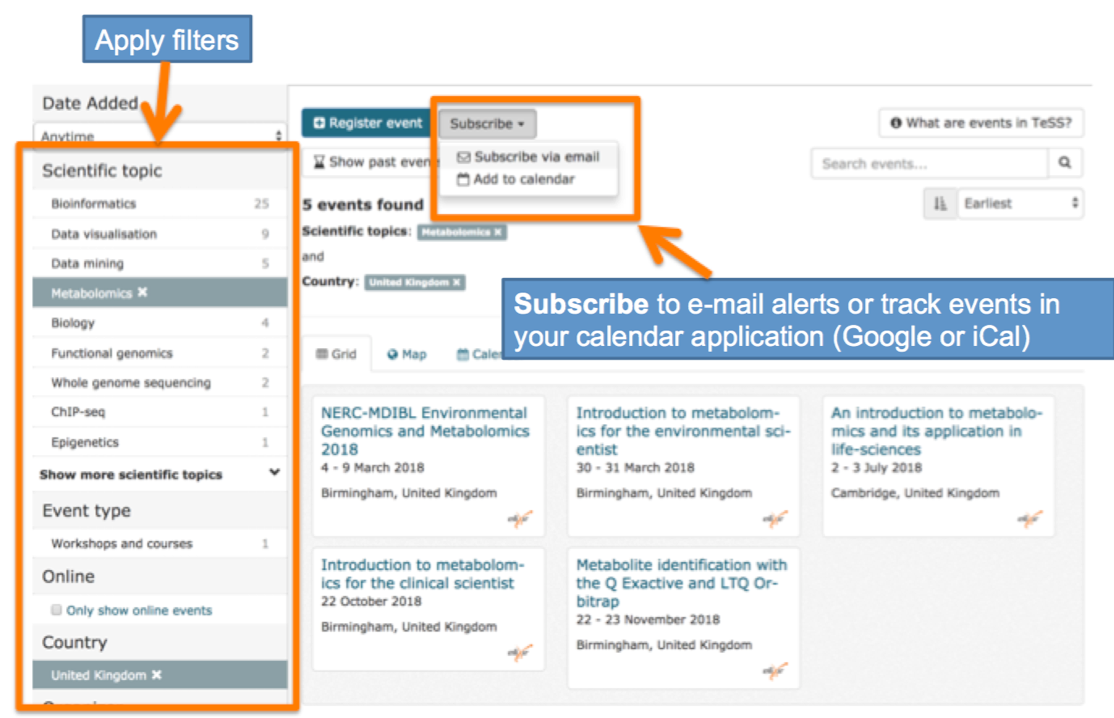 Widgets & API
To access DReSA data, providers, institutions and organizations may readily import information, about relevant events and materials, to their site using widgets. Alternatively, they can create custom feeds using our API.
Learn more about Widgets
Learn more about our API